Happy almost-October! The summer has flown past and there haven't been any additions to the Archives. However, that doesn't mean there hasn't been any activity.
The big news is that NTAP has officially formalized a relationship with the Sousa Archives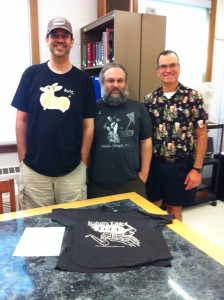 and Center for American Music at the University of Illinois. Jeff Machota donated over a dozen vintage Nature's Table shirts to the Sousa Archives, Here's a photo of Jeff and I (left & middle) making the donation to Sousa Archivist Scott Schwartz (right):
This formally creates a procedure by which donated materials to NTAP will be transferred to the Sousa Archives for safekeeping, cataloging and preservation. In the case of recordings, the physical media (cassettes, reel-to-reels, etc) will be handed over to the Sousa Archives after NTAP digitizes them.
Scott Schwartz also provided Jeff and I guidance on creating a Deed Of Gift form for NTAP, similar to the one we fill out when NTAP gives material to the Sousa Archives. Many thanks to Scott for his assistance!
Another noteworthy item: during my last visit to C-U in August, I managed to get an oral history recording from Jeff Machota, describing his time at the Table from 1984 until the end. I hope to have that posted to the Oral History area soon.
Of course, the main thing folks are interested in is the music. Jeff and I have had very busy summers with work, and life has simply gotten in the way. I hope to get back on track and start providing new recordings at a minimum of once every month. Keep following the What's New tab here on the ste, or the Nature's Table group on Facebook,  and you'll see the latest devlopments
Thanks for the support! Drop us a line if you have any questions or donations; we'd love to gear from you.
Sean